Digital Platforms and Software Systems Research Group
Contact person: Dr. Benedict Bender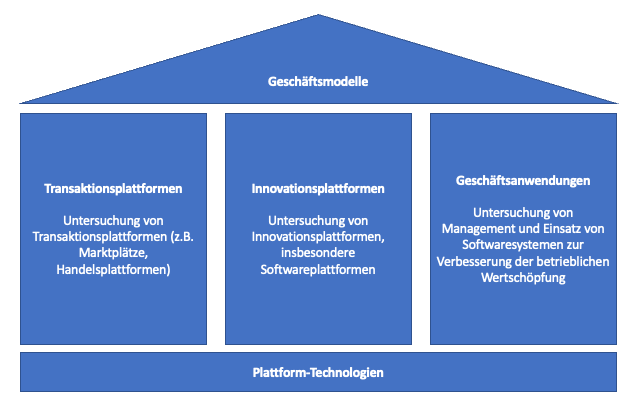 In addition to the three central areas of investigation, the group's research includes digital platforms (transaction platforms, innovation platforms, and business applications), Platform Technologies as a basis as well as business models. The research approach thus holistically maps the area of investigation of business informatics.
The research group focuses on multi-sided digital platforms. The platform ecosystem comprises central actors that are connected to the platform and its business activities. In addition to the central company of the platform operator, the group of partners and customers should be mentioned in particular.
Areas of investigation of digital platforms:
In the area of Transaction platforms multi-sided platforms that focus on bringing together actors are examined. The focus of the study is on trading platforms for physical and digital goods.
Innovation platforms form the basis for realizing innovation through complementors on a common platform technology. Prominent examples are platforms such as Apple iOS and Google Android, which enable the development of mobile apps by developers.
Business Applications coordinate the operational value creation of organizations. The focus is on holistic standard software systems such as ERP and CRM applications.
Offer for practice partners
Would you also like to cooperate with the research group?
We offer a wide range of opportunities for cooperation with companies and research institutions. The design of the cooperation is as individual as the projects themselves. Below you will find examples of cooperation formats.
Are you interested in a collaboration? You have an idea for an innovative project? Do not hesitate to contact us! (link follows)
Development of a digital platform
The accelerating pace of digitization is presenting companies with major challenges. For companies, especially SMEs, it is a challenge to get started with this topic. Our claim is to offer you a scientifically sound entry point. We support you with questions on the topic of digital platforms, help you decide whether your own digital platform is worthwhile for you and explain what is important when developing an online platform (Link KMU-Navigator). Our publications and tools provide an easy introduction to the topic.
Research collaborations
Within the framework of research cooperations, companies participate in research projects. Together with the research group, forward-looking topics are scientifically investigated and, depending on the project, translated into practical applications.
For example, the project Internet of Things-Business Model Evolution investigated the possibilities for using platform approaches in the plastic injection molding industry.
Do you have a specific research project and are looking for scientifically sound support? We support you in your project. Contact us via this form (link follows)
Market analyses and studies
Our market analyses provide transparency in areas that are usually not investigated or not currently investigated and thus make a strategic contribution to decision-making for companies.
For example, the current market situation of updates in the ERP area was examined as part of the "ERP Update Study". In addition to different update formats, the distribution of continuous updates as a future procedure was examined in particular. Furthermore, the study offers companies the possibility to benchmark the costs for ERP updates.
Cooperation regarding student project work
Student project groups offer innovative approaches to challenges. In a project (usually 6 months), selected students work on issues of politics, administration and companies.
These projects are offered each semester to students who are in the final semesters of their Bachelor of Information Systems and to Master of Information Systems students, bringing together students with a wide variety of profiles and backgrounds. Students are supervised throughout the project by research group members.
The possible tasks are very diverse and can range from project management to prototype development or data collection to the selection and implementation of software systems.
For example, a group of students evaluated the feasibility of a decentralized copyright platform for music as part of a project seminar for the German Federal Ministry of Justice and Consumer Protection. Stakeholders ranging from labels to archives were interviewed to determine requirements for the development of a target concept for a European, decentralized Music Copyright Platform (EMR Platform) zu erheben.

Cooperations regarding theses (bachelor, master, doctor)
By participating in final theses, companies have the opportunity to introduce their own questions to science and promote an exchange between practice and science. In addition, young people can be convinced of their own company at an early stage.
Students of the bachelor's and master's programs in business informatics and related disciplines are supervised by the research group in the course of their final thesis and accompanied in the processing of innovative questions for practical application.

Individual needs
Are you looking for individual solutions for your company? We can also help you here
An AI maturity model was set up for a software company and a tool was developed to be able to evaluate functions, modules or entire ERP systems with regard to their AI maturity level.